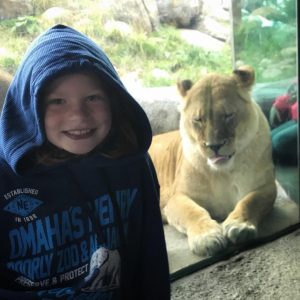 Road Trip to the Omaha Zoo,
something Always wanted to Do.
Wife, Daughter, and Little Miss,
the One the Lion wanted to Kiss.
Cold and Rainy – That was Tough,
good Excuse to Buy more Stuff.
Lots of Animals we did See,
Watching Folks – the Best for Me.
Trudged for Hours 'round the Park,
'til Was almost getting Dark.
Arthritic Knees began to Crack,
needed Super-Sized Ice Pack.
Drove home Weary – a little Sore,
though Joyous thoughts were With me More.
Looking now some Tears do Rise,
Excitement in Granddaughter's Eyes.